Mölle, and the nearby Kullaberg Nature Reserve, are incredible to visit on Sweden's South-West Coast. Mölle is a coastal town with a big fishing harbour and colourful houses lining the hillside. Kullaberg is a unique landscape with rocky cliffs, meadows and forests to explore. The beautiful nature, incredible sculptures, mansions, light-houses, windmills and some of the best hiking trails make this one of the best weekends away in Sweden. There are so many things to do in Mölle and Kullaberg that you will be itching to go back!
---
---
This guide to Mölle and Kullaberg Nature Reserve includes:
---
If you are interested in travelling around Sweden you may also enjoy these posts!
---
Please note that this post contains affiliate links meaning that if you make a purchase through my affiliate link, I receive a small commission at no additional cost to you. I only do promote products and brands that I have used and like.
How to get to Mölle and Kullaberg Nature Reserve
Kullaberg Nature Reserve and Mölle are located in North West Skåne, Sweden. It is around a 1.5-hour drive north from Malmö, or alternatively a 2.5-hour drive south from Gothenburg. Alternatively, you can get to Mölle via public transport. This option takes a little longer but is worth it if you are staying for a few days. The trip involves taking a train to Helsingborg (from Gothenburg or Malmö) and then transferring to a bus which takes you to Höganäs. From here you can take a bus to Mölle.
Is it difficult to travel around Mölle and Kullaberg on public transport?
The answer to this question is yes, and no. It is easy to travel around Mölle and the surrounding coastal area using the bus lines which is great if you want to explore anywhere on the south or north peninsula. However, there are no bus lines that go from Mölle to Kullaberg. Luckily, it is a relatively short walk from Mölle to the Naturrum in Kullaberg (4.8km). On this walk, you see many of the natural wonders that are highlights of Kullaberg. The loop hike around Kullaberg from Mölle is around 10km long. There is also the possibility to take the bus from Mölle to Arild. From Arild, you can access several other walking tracks that loop around Kullaberg Nature Reserve, past Nimis and up to the Lighthouse. You can see several different walking trails here which will help you decide how to split your time in order to see as much as you can!
Where to stay in Mölle and Kullaberg
Camping in Mölle and Kullaberg Nature Reserve
Something we love to do when we are hiking is spent the night in a tent. There is nothing better than waking up with the sunrise, in a field or a forest surrounded by nature. There are several different camping places in Kullaberg Nature Reserve, and around Mölle.
Free Camping in Kullaberg Nature Reserve
Unfortunately, the rule of Allamansrättan does not apply to nature reserves in Sweden. Luckily, there is one designated camping spot in Kullaberg Nature Reserve where you can see up your tent for the night. There is space for 8 tents. It can get SUPER busy in the summer months so it is best to either get there early and secure your spot or have a backup plan in case the area is full. We visited at the beginning of October and were the only people there. Finding this camping spot was incredibly difficult as it doesn't show up on many of the maps of Kullaberg.
The camping place in Kullaberg Nature Reserve is located at Parkeringsplats Kullaberg. It is the big car park at the end of the road as you drive towards Kullen Lighthouse. You can see the map here. The tent place is quite hard to spot, especially if you arrive in the dark. If you turn into the car park from the road and walk to the very top left corner, there is a small patch of grass hidden in the trees bordered by a string. This is the camping spot. On the other side of the carpark there are several fire pits and picnic benches which make a great addition to this camping place. There are also toilets located at the entrance to the carpark.
Camping in Mölle
If you are wanting to camp in a more organised, paid campsite then there are several options around Mölle and Kullaberg. The first is First Camp Mölle – Höganäs. This is a great campsite for families and travellers. They have great facilities including two swimming pools. The campsite is located just south of Mölle and is the closest campsite you will get to the town and the nature reserve.
If you are happy to stay a little further away, there is also Lerbergets Camping. This is located further south but has great access to the beach and the forest. It is only a short drive or bus ride north to Kullaberg from here. They also have a minigolf course and bicycle hire which is great for family camping.
---
Mid-Range Bed and Breakfast
One of the best mid-range bed and breakfast stays in Mölle is Pensionat Strandgården. It is a small but very cosy property with amazing views of the sea. There is an amazing breakfast included, and all the rooms feel super fresh and homely.
Luxury Hotel Escapes
One of the most well-known hotels in this part of Sweden is Hotell Rusthållargården. This is a sustainable travel property located in Arild, the northern part of the peninsula. It offers amazing views over Skälderviken Bay as well as having a mini-spa room with a hot tub, sauna and plunge pool. Hotel Rusthållargården is one of the best places to return to after a long day hiking.
If you want something nice but a little more situated in nature then Kullagårdens Wärdhus is definitely the option to go for! Located in Kullaberg Nature Reserve, this gold club is the perfect base for hikers wanting to explore the coastline. The hotel has a sauna that is free of charge to guests, and is a 10 minute walk to Ransvik Beach and Kullen Lighthouse.
---
What To Do In Mölle, Sweden
Mölle is one of the most picturesque coastal villages in Sweden. It is a very popular summer destination for a lot of Swede's and international tourists. One of the best things to do in Mölle itself is to just wander around the town and look at all the unique houses.
Top Things To Do In Mölle
Mölle Loppis
Loppis means second-hand in Swedish and they are usually advertised by homemade signs along the street leading you to some sort of magical second-hand wonderland. The loppis in Mölle is sort of difficult to find but worth following the signs to as it has some great treasures! It is the best place to find an authentic souvenir to take home with you.
Walk around and look at the houses
One of my personal favourite things to do when I visit small Swedish towns like this one is wander around the streets and look at the unique houses. From a distance, they all look relatively similar. Little yellow or white houses with wooden panels and pretty gardens. When you get up close and start looking at the details you can see how much love has gone into creating these unique properties.
Mölle Fyr
Mölle Fyr, or Mölle Lighthouse, is no where near as magestic as its rivals in Kullaberg Nature Reserve. However, this little lighthouse, sitting in the middle of the harbour, has a quaint charm about it. It is not much to see but definitely worth a look as you are walking around the town.
Fågelvikens Badplats
Fågelvikens Badplats is one of the best swimming areas in Mölle. It is located just 500m south of Mölle Harbour and is a great swimming spot to take kids to. There is a toilet and BBQ spot, a beach and a deeper section with a ladder.
Where To Eat Out in Mölle
To eat definitely visit 2020 Mölle for some of the best sandwiches, coffee, and an incredible view of the ocean. For a bigger mean, Mölle Krukmakeri is the cosiest restaurant in Mölle. They serve delicious sourdough pizza and have the most picturesque outdoor eating area with an Orangerie.
---
Top Things To Do In Kullaberg Nature Reserve
Naturrum Kullaberg
Naturrum is something you see regularly in nature reserves and national parks around Sweden. It is a place you can go, similar to a museum, to learn about the nature that exists within the local area. The Naturrum in Kullaberg is a great place to learn about the native birds, mushrooms, plants and animals that live around the peninsula. You can learn more about Naturrum here!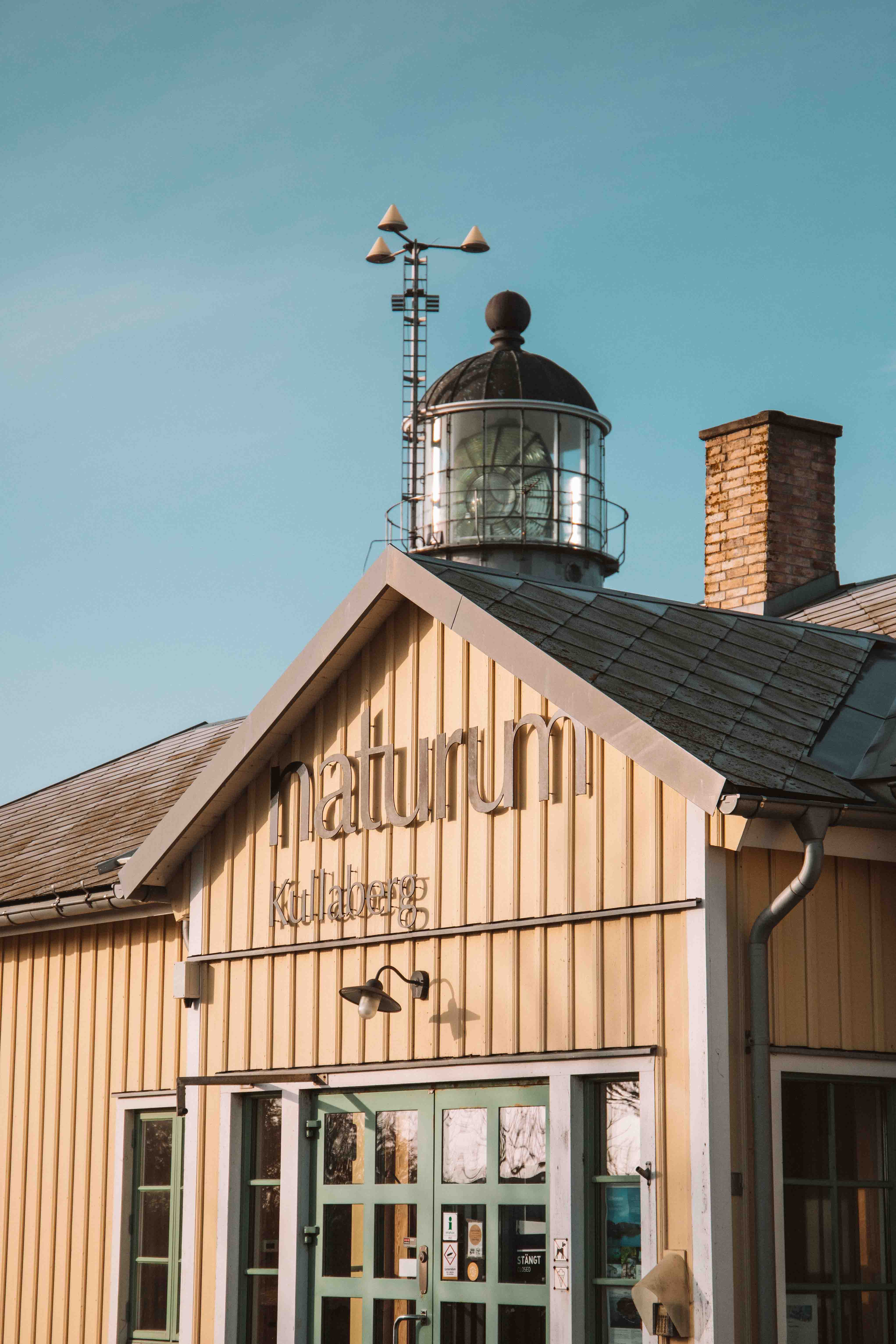 Hike the Kullaleden
The Kullaleden is a 70km long hiking trail that runs around the edge of the Kullaberg peninsula. It passes by some of the most beautiful places to visit in Kullaberg and Mölle. It can be done either as a multiple-day hike, or you can choose certain sections to hike within a day trip.
The Kulleleden Trail in One Day
As a 70km trail it is impossible to do the whole thing in one day, however, there are several sections and loops you can do! This includes the walk that begins at Kullens Fyr, passes by Åkersberget and then continues up through the meadow and back along the road. For a longer walk, you can continue from Åkersberget towards Mölle Golf club and then loop back past Visitgrottan. Alternatively, there is the walk from Himmelstorps to Nimis and back. This is a great website to see all the possible loop tracks!
The Kullaleden Trail on Multiple Days
The Kullaleden trail is a part of section 5 of the Skåneleden which passes from Helsingborg to Utvälinge. This trail is 70km in length. A shorter section is from Höganäs to Arild. This section of the hike is 29km and can be done in 2-3 days! You can spend one day hiking from Höganäs to Kullens Fyr (17km) and the next from Kullens Fyr to Arild (12km). This makes two quite long days of hiking. There is also the option to hike from Höganäs to Mölle (12km), Mölle to Kullens Fyr (5km) and then Kullens Fyr to Arild (12km). This is a great hike for a long weekend in Kullaberg and means you can also do some other activities around Kullaberg Nature Reserve on the shorter hiking day.
Along the hike, you can either camp at the free campsite in the nature reserve which I talked about previously, or stay in a hotel or paid campsite along the way. If you want to stay near Arild, unfortunately, the next free campsite along the Kullaleden is in Skäret (an extra 3km of walking. On the other side, you can camp at Strandbaden, near the Örestrand hotel, however, it is located a further 7km from Mölle.
Cycle the Kullaberg section of the Kattegatt Trail
If you are into cycling, a great activity is to cycle the section of the Kattegatt trail (Kattegattleden) that runs from Helsingborg to Gothenburg. The trail is 390km in total. However, the Kullaberg section of the trail is 39km long and stretches from Höganäs to Ängelholm. The trail, unfortunately, does not pass directly through Kullaberg nature reserve, however, it is more than possible to spend a day exploring the nature reserve by leaving your bike in Arild and taking the bus or cycling up the road towards the park. You can leave your bike in the car parks and do several of the hikes down to the cliffs or cycle all the way up to Kullaberg Naturrum where you can also explore Kullens Fyr.
Kayak Around the Unique Coastline
There is no better way to see this unique landscape than to get in a kayak and see it from the sea. If you don't have the possibility to bring your own kayak, there are some great tours you can go on. This is my personal favourite thing to do as the guides are great at telling you exactly what to look out for! If you're lucky, you might even get a glimpse of a porpoise! You can book kayaks and tours through Kullakayak. You can find their details here!
Nimis, Kullaberg
Nimis is an amazing art piece located on the north coast of Kullaberg Nature Reserve. It is almost like a giant treehouse that you can walk through to make your way down to the beach. A bit of controversy surrounds the legality of Nimis so you cannot find it on any official maps of Kullaberg.
To get to Nimis, the best place to park is at Himmelstorps Parking and follow the hiking trail past Himmelstorpsgården Byggnadsminne. Along the track, you will see multiple yellow "N"s marked on trees. Follow these signs and you will get to Nimis. The walk down to the entrance is quite steep and can be difficult in bad weather. Around Nimis, you will also see two more of Lars Vilks' work – Arx and Ladonia.
Go on a Porpoise Safari
Kullaberg Nature Reserve is known to be a great place to see whales and porpoises! It is an amazing experience to see them in their natural habitat! You can sometimes see them from the mainland, however, the best way to get a glimpse is to take a porpoise safari! My personal recommendation is for the Whale Safari with KullabergGuiderna.
Take a swim
Most of the coast may look like it is made up of dramatic cliffs, however, there are some great swimming spots in Kullaberg Nature Reserve! To find these, look out for signs for "badplats" around the park. The best to visit is Ransvik. Ransvik Havsbad is located right next to a car park and cafe and is quite a nice rocky beach with space to sit and relax.
Visit Kullabergs Vineyard
One of the most popular stops around Kullaberg, other than nature, is at Kullaberg Vineyard. Here they brew their own apple cider, red, white, sparkling and rose wines! In the summer you can join for a guided tour of the vineyard and its facilities, or spontaneously turn up for a wine tasting! On top of this, the vineyard is located in a beautiful spot in the middle of the Kullaberg peninsula. You can find out more information here!
---
---
You Might Also Enjoy These Posts!